Helicobacter Pylori, often referred to as H. Pylori, is among the most pervasive infectious bacteria in the world with estimates suggesting that it affects at least half of the global population.
In Ontario, the prevalence of H. Pylori infection has been estimated to be as high as 30% in some demographics with those male, aged 50+ generally at highest risk.¹
Despite its high prevalence, a significant chunk of those infected with H. Pylori may never experience symptoms but for those who do, it can be quite unpleasant.
H. Pylori is known to cause gastritis, a painful inflammation of the stomach lining which may in turn significantly increase one's risk of stomach ulcers.
Symptoms of ulcers may include:
Pain (upper abdominal)

Bloating

Nausea/vomiting

Appetite loss

Stool discoloration

Unexplained fatigue (

due to blood loss)
Your healthcare team may choose to test for H. Pylori via breath or stool test, particularly if you have a medical history of ulcers or are experiencing the symptoms above in a persistent and otherwise unexplained fashion.
The gold standard treatment for H. Pylori generally involves a combination of medicines including multiple types of antibiotics as well as acid reducing medications to allow ulcers to recover.
It is during the treatment process for H. Pylori infection that Florastor, containing the S. boulardii CNCM I-745 probiotic, has a scientifically backed role to play.
In fact, a 2015 systematic review and meta-analysis published in the World Journal Of Gastroenterology estimated that probiotics used during H. Pylori treatment increased the success of treatment at eradicating the infection by 13% while reducing the rate of side effects of the treatment process (such as antibiotic associated diarrhea) by 41%.²
S. Boulardii is among the most studied probiotic species for use during H. Pylori treatment. Florastor with its unique and well-studied strain S. Boulardii CNCM I-745 is the perfect add on to this treatment. Florastor Max is the one to use for this treatment.
With that in mind, let's take a closer look at the two ways it might help.
Reduction in medication/treatment side effects
The intense nature of the treatment process for H.Pylori means adverse effects may occur in some people.
In fact, antibiotic treatment can kill good bacteria found in the gut and dramatically change your gut, leading to long term gut disturbances, which results to diarrhea. S.Boulardii has demonstrated to be the only probiotic resistant to any tested antibiotic.³
The use of S. Boulardii and Florastor Probiotics as a complement to the treatment process has been demonstrated to significantly lower patients' chance of developing symptoms of diarrhea, headache, abdominal pain during the treatment process.⁴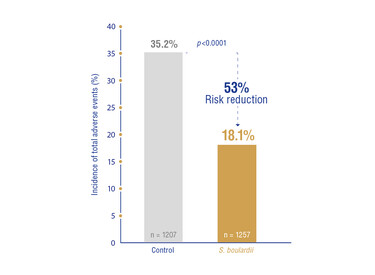 In fact, a 2015 meta-analysis looking at a total of 25 studies found that among six single strain probiotics tested S. Boulardii CNCM I-745 was the only strain found to significantly prevent any of the adverse events associated with H Pylori treatment;⁵
These results also extend to children, S. Boulardii having been demonstrated to be an effective compliment to H. Pylori eradication in pediatric populations with study data indicating it reduces the incidence, shortens the duration as well as delays the onset of diarrhea.⁶
Increase in treatment success
Depending on the precise treatment utilized, the success rate of H. Pylori eradication in Canada may vary between 76-87%.⁷
A 2019 meta-analysis including 18 studies and 3500+ patients demonstrated that, when combined with conventional H. Pylori treatment, S. Boulardii can increase the success rate of H. Pylori eradication.⁸
Moreover S. Boulardii is recommended by international organizations, such as the World Gastroenterology Organization (WGO) in the treatment of H. Pylori in children and adults.
Conclusion
H. Pylori is a common infectious bacteria which can negatively impact quality of life in those it most severely effects.
A growing body of scientific evidence supports the use of S. Boulardii and Florastor Probiotics to compliment standard treatment options particularly as it relates to reducing the negative side effects of treatment but also to potentially increase the effectiveness of treatment.