Around the country, parents and their kids are gearing up for back-to-school day. The school supplies list is ready, and it almost feels like nothing has changed this year…. However, this year's major crisis, COVID-19, has drastically changed the way we operate on a daily basis in recent months. It means physically protecting your child's health with the use of masks and more frequent hand-washing. But it's also more important than ever to do everything we can to support their immune system. In a situation like this, what can we do as parents to help create a healthy environment for our kids at school?
When a microbe tries to attack our immune system, defense mechanisms carefully orchestrated by immune cells and the intestinal flora are put into action to eliminate it. This protective barrier, erected by the intestine, prevents bad bacteria from colonizing the gut and multiplying to create an environment more conducive to the further development of good bacteria, and prevents foreign bodies from entering the bloodstream. The purpose of this immune system-gut alliance is to promote and maintain health throughout our lifetime.
Studies have shown that a diet high in fiber, a food source for intestinal flora, enables the microbiota to work more efficiently against microaggressions from the outside environment. What has also been shown to support the critical role that intestinal flora play when it comes to immune health are probiotics.
Probiotics, which are living microorganisms much like intestinal flora, not only support your child's digestive health, they also promote a healthy immune system so it is worth considering adding them to your go to list for school supplies. Probiotics can be found in foods and medicines, but they can also be found as supplements.
As we grow and age, diet, lifestyle choices, patterns of sleep, and environmental stressors can impact the health and diversity of our intestinal flora. These changes can cause our immune system to become more susceptible to microbial aggressions. Making healthy lifestyle choices, like using a daily probiotic, is one of the best ways to help maintain the health and diversity of your child's intestinal barrier.
Studies have shown that probiotics can help improve nutrient absorption and increase digestive enzymes as well as stimulate the development of Immunoglobulin A (IgA), the primary antibody in our digestive tract that helps fight infection.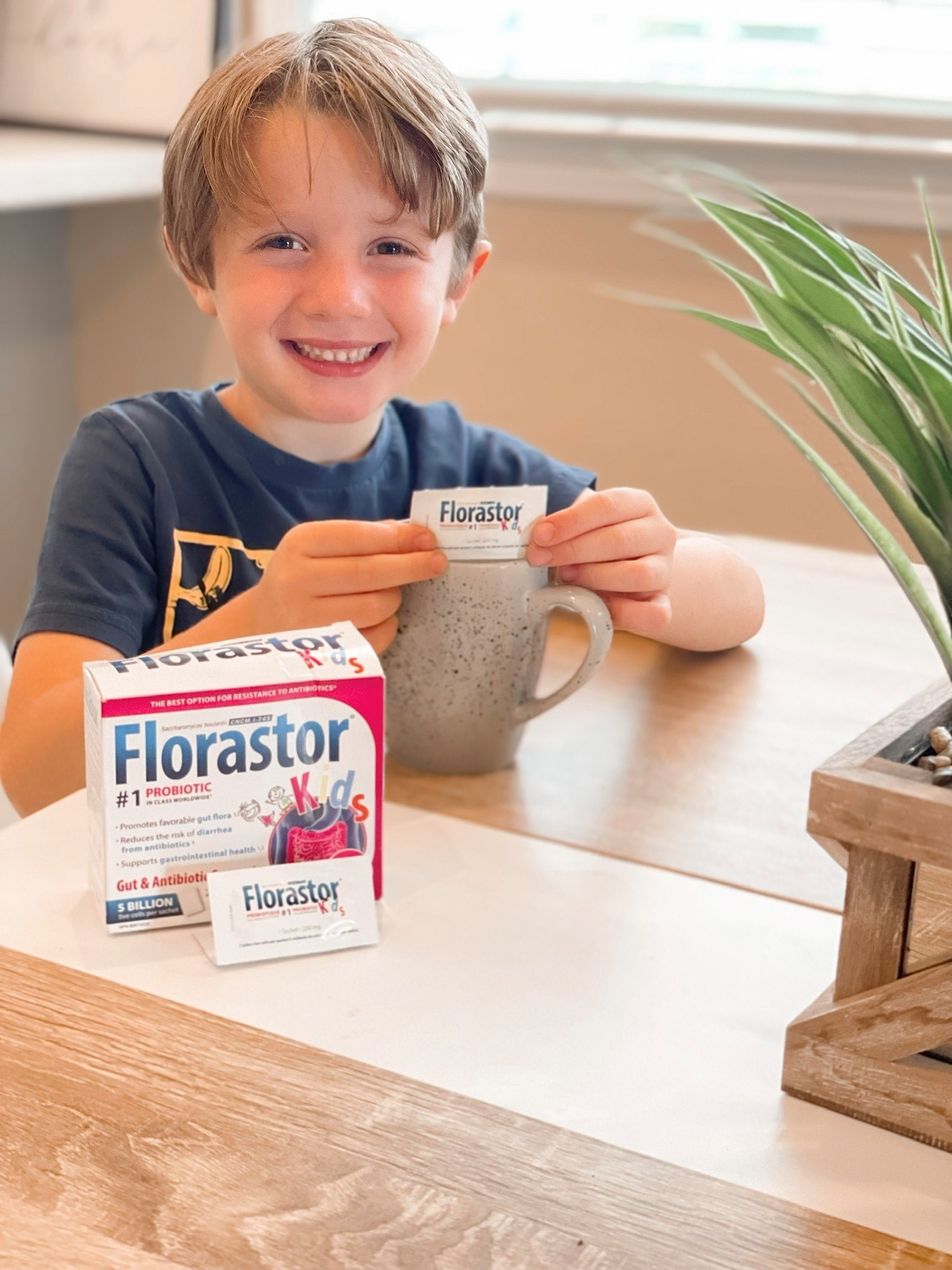 Florastor® is the only brand of probiotics with Saccharomyces boulardii CNCM I-745, a unique probiotic strain with over 65 years of use and researched in more than 100 clinical trials worldwide, recommended by international scientific societies including WGO « World Gastroenterology Organisation », making it the trusted probiotic of choice by millions of families around the world. It's also the only probiotic strain resistant to any tested antibiotic*, and promotes favorable gut flora, reduces the risk of diarrhea caused by antibiotics and improves your child's immune system by supporting gut health.
Florastor Kids is a kid-friendly solution that will help your child preserve the delicate balance of their healthy gut flora. It can be blended in beverages or snacks, such as applesauce, and is naturally sweetened with Tutti-Frutti flavor to please their delicate taste buds. It's also Vegetarian, Gluten-Free and non-GMO.
When it comes to preparing our kids for school, we want the absolute best for them, as well as for their health. Choosing Florastor Kids to help them boost their immune system for such an important moment of their lives is choosing what is best for them!
* Any tested oral antibiotic according to Neut et al. 2017 (Penicillin, cephalosporin, macrolides, fluoroquinolones and others)
These articles might interest you
See everything
Published on 14 September 2023
Published on 11 September 2023